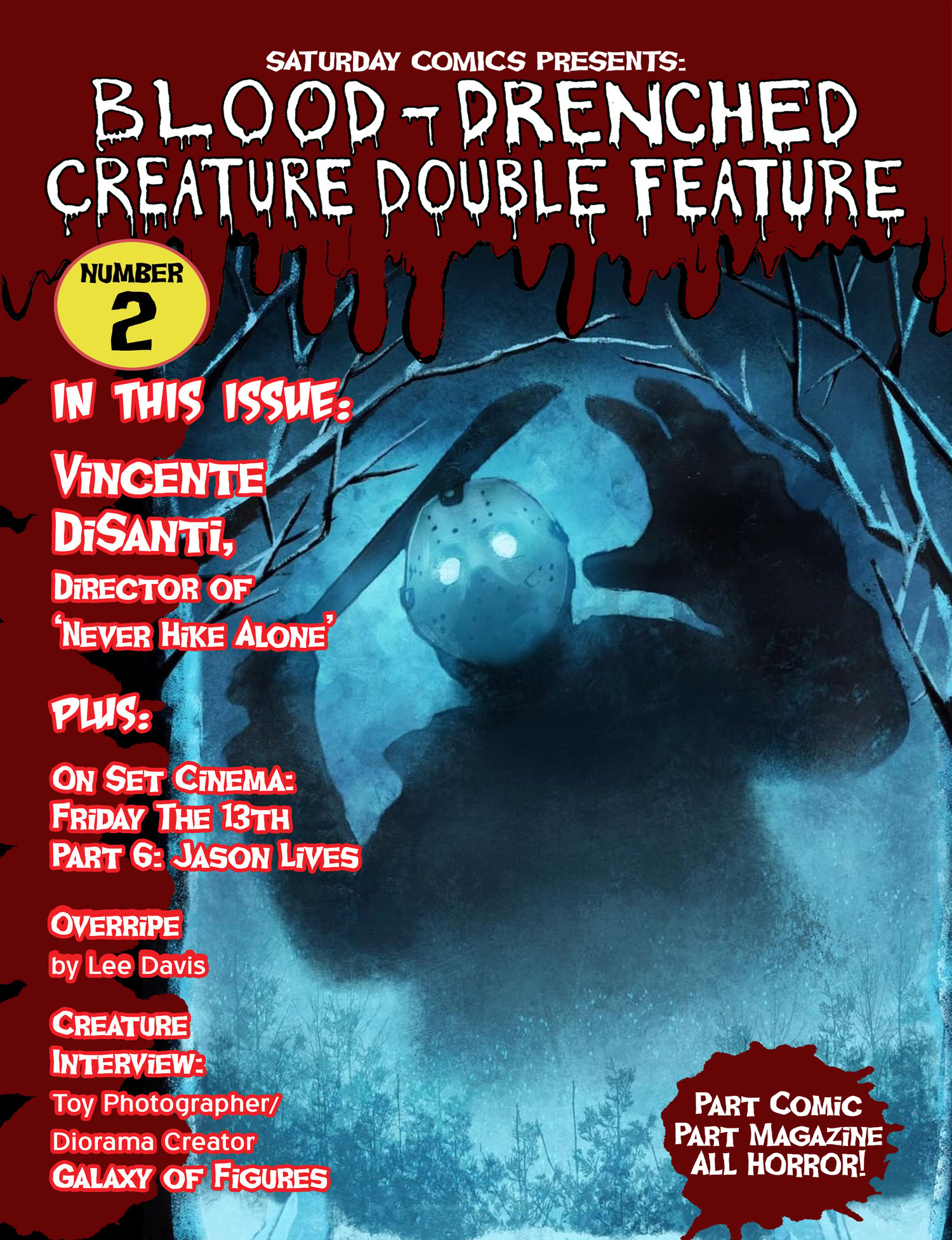 Blood-Drenched Creature Double Feature #2 (with stickers)
*TAKING PREORDERS NOW! SHIPS MID-DECEMBER 2019!*
We're back with the 2nd fright-filled issue of the hit horror magazine/comic anthology! And this time, we've added MORE pages to bring you even more scares! This issue includes:
COMICS:
"Overripe" - written and illustrated by Lee Davis
"Here Comes The Butcher: A Bee Sting Story" - written by Matthew David Smith, art by Lee Roy Lopez
SPOTLIGHT:
Hanukkah - An interview with producer Christopher Ott on the new holiday-themed horror film from My Way Pictures and starring Sid Haig, PJ Soles, Dick Miller, and more!
On Set Cinema: Friday the 13th Part 6: Jason Lives - Join us as we discuss On Set Cinema, Kenny Caperton's traveling theater that shows horror movies at their filming locations. We were on hand for Camp Blood weekend, an overnight camping experience at Camp Crystal Lake from the sixth movie.
CREATURE INTERVIEWS:
Vincente DiSanti - The writer/director of the hit Friday the 13th fan film, "Never Hike Alone", sits down with us to discuss all things Jason and their upcoming sequels!
Seth Breedlove - Find out all you need to know about Small Town Monsters, the documentary series that investigates Bigfoot, Mothman, and other cryptids, from the series creator himself!
Galaxy of Figures - Matt Parker is a toy photographer who constructs film accurate setting dioramas for our favorite horror action figures! Find out more about his process!
Plus, a new feature called "Such Sights To Show You" where we feature YOU, the horror fan, with your amazing horror collections!
Don't miss this packed issue! Each issue comes with two (2) Saturday Comics stickers!
*SHIPPING TO CANADA NOW OFFERED!*